The ARK of St. Sabina - Reawakening the Dream
Written by Jocelyn Jones
"It is our responsibility to brush the dust off our children's dreams and reawaken them" said Father Pfleger.

These words are a reflection of why the Community Center was built nearly 80 years ago, and remains at the heart of what we do for the people we serve at the ARK each and every day.
On November 5, 1937, the corner of 78th and Racine was transformed from a cinder playground, to a prominent Community Center on the Southside of Chicago. From its origins, the St. Sabina Community Center (now known as the ARK) was a place where people would come from all over the city to participate in its competitive AAU basketball tournaments, and a range of other sporting events. Thousands of spectators came through the doors of St. Sabina's Community Center every year for their exciting skating variety shows, and St. Sabina's dances and parties were known for being the place where many marriages had its start.
St. Sabina's Community Center remained a pillar of the Auburn Gresham community for several decades, but due to financial hardships the once vibrant Community Center nearly closed its doors to the public in the late 1970's. Eventually, the weekly skating parties came to an end, and the basement of the Community Center was completely boarded up. Yet, there were still much brighter days ahead for the St. Sabina Community Center.
In 1992, Father Michael Pfleger made a decision to reopen the Community Center, and he renamed it "the ARK" to symbolize his intent for it to be a safe haven for youth to escape from the storms of the world and prepare for a better life. The ARK, which remains a pivotal anchor in Auburn Gresham today, touches over 1,000 youth and young adults each year through its after school program and outreach events. From the historic peace tournament to the countless youth who come to the ARK each year to dance, sing, and perform, the ARK is a place that helps young people to discover the talents and gifts that lie within them. "It is our responsibility to brush the dust off our children's dreams and reawaken them" said Father Pfleger. These words are a reflection of why the Community Center was built nearly 80 years ago, and remains at the heart of what we do for the people we serve at the ARK each and every day.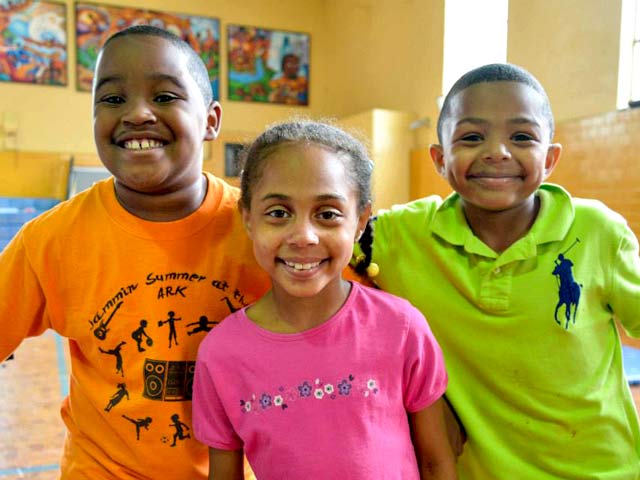 Answer the Urgent Question
Written by Felice Barrett
For a century, the Faith Community of St. Sabina has gone far beyond the four walls of the church sanctuary to serve people in need. St. Sabina's rich history of service and outreach has not only helped transform the lives of thousands of people, but has also led to revitalization of the Auburn Gresham community.
Dr. Martin Luther King, Jr noted in an August 11, 1957 speech: "An individual has not begun to live until he can rise above the narrow horizons of his particular individualistic concerns to the broader concerns of all humanity. Every person must decide, at some point, whether they will walk in the light of creative altruism or in the darkness of destructive selfishness. This is the judgment. Life's most persistent and urgent question is, 'What are you doing for others?'"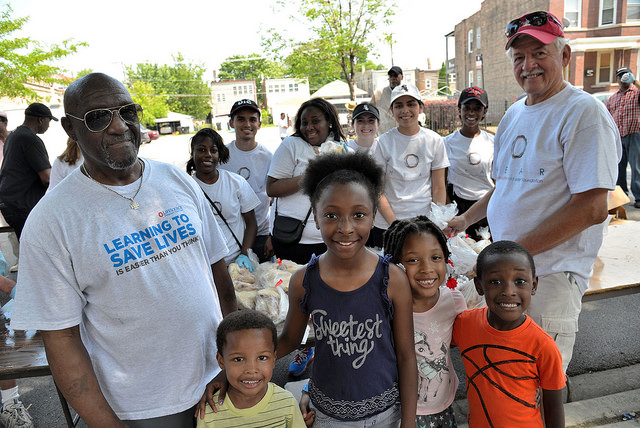 On July 9th, exactly 100 years after St. Sabina first opened its doors, the church will celebrate its anniversary by organizing a Day of Service. On this day, St. Sabina will invite people from across the state, country, and world to partake in a service project that spreads a message of peace and love throughout the community. Chairwoman Glenda Franklin stated that our goal is to have at least 100 service projects that day including projects such as cleaning up empty lots, feeding the homeless, assisting the elderly, painting murals, and planting gardens in the community. We encourage community groups, churches, sororities, fraternities and individuals from all walks of life to come together in solidarity for this event. We are also looking for more creative and unique services ideas. Even those that live far away from St Sabina can participate in their own communities.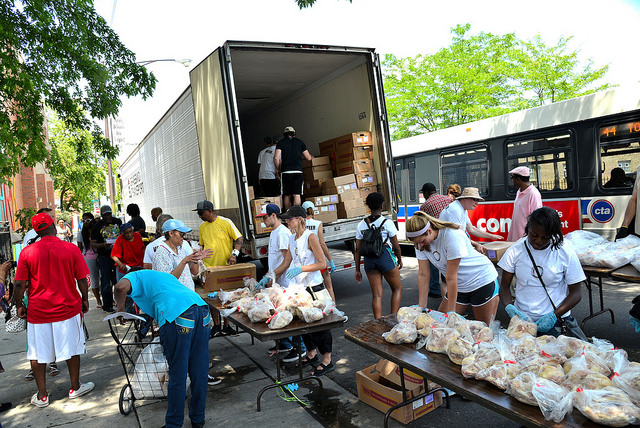 There will be a kickoff celebration with music and refreshments at St. Sabina beginning at 9am. Then the participants will be sent off to "preach the word" through service. The plan is that the various service projects will go on concurrently until 4pm.
In the midst of this great milestone and accomplishment, St. Sabina acknowledges and adopts our Lord's words that "...the greatest among you shall be your servant." Help us spread God's love through service and answer the persistent and urgent question for yourself.
Sign up to volunteer today. For more information, email the 100th Anniversary Committee at This email address is being protected from spambots. You need JavaScript enabled to view it..
Register now by completing The Day of Service Volunteer Registration Form.
Written by Felice Barrett
Have you ever wondered "why we march"? Some people question the value of marching in the present day, believing that marching was an act that was only effective during the civil rights era. Yet even today, we see demonstrations of people marching for justice and truth all over this country. For the last three decades, marching has played an integral role in St. Sabina's ability to help transform the Auburn Gresham community.
Father Michael Pfleger has made it his mission to not only demonstrate St. Sabina's service to the community by leading Friday night marches in the streets, but to explain in various media why we should march. Media excepts are found in weekly bulletins, past Praise Reports, bible study tapes, press releases and radio transcripts. As St. Sabina embarks on its 100th year of ministry, we understand that activism and outreach are integral to the mission and vision of St. Sabina.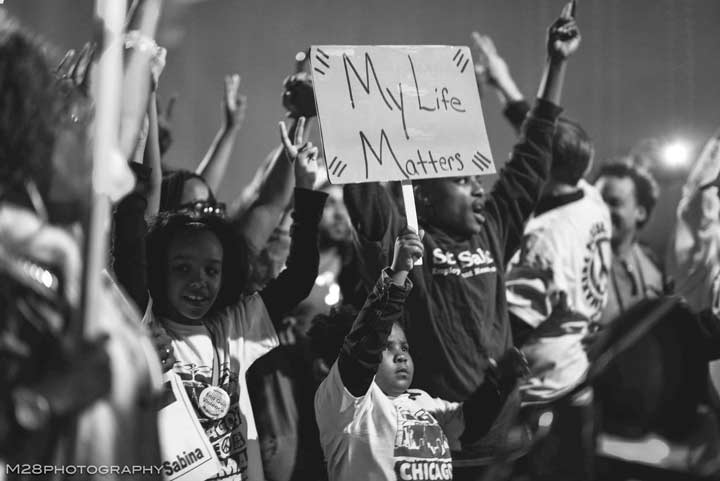 Father Pfleger simply states "we do what we do because it is biblical." The book of Genesis testifies that we are "created in the image and likeness of God" and we are given the responsibility to "fill the earth and subdue it." As disciples of Christ, Pastor goes on to say "Our task is not to coexist with the evil of this world, but to control it as co-creators with God." We must take our God-given responsibility and become stewards of the universe. For the Faith Community of St. Sabina, this universe begins right outside the doors of the church. We can't shift the blame to others to clean up our streets, we have to stand up and take control ourselves.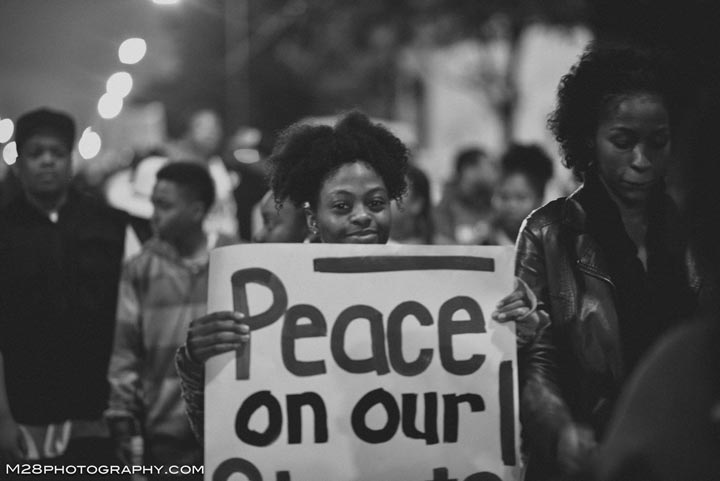 In order to understand further why we march, envision a community that is clean where legitimate businesses are thriving and it is safe for children to play outside. A place where citizens have the courage to confront the dangerous and evil factions of their community for the common good and where the spirit and presence of God illuminates the darkness. A place where all the citizens including those in authority are treated with love and respect. A place where peace is the focal point.
Because these marches are so important, St. Sabina encourages the marchers to be attentive and purposeful. To encounter the community with a smile and kind words of love and peace and to provide literature and information about available outreach resources. Ultimately, the marchers should expect that their actions will lead to change.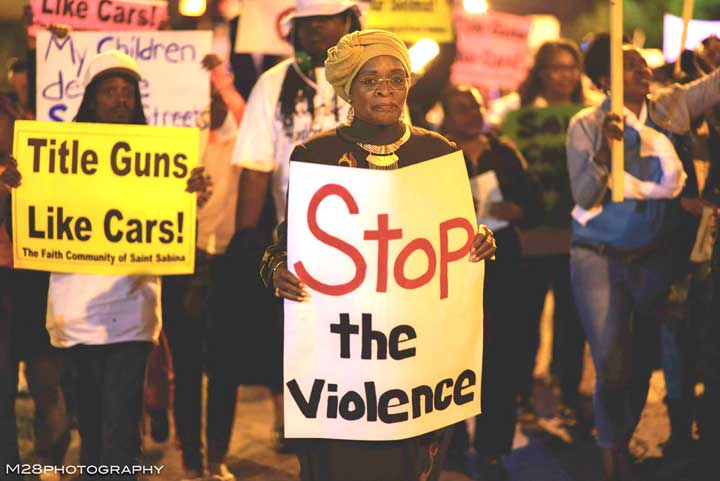 Throughout the years, the Auburn Gresham community has seen the fruits of these marches. Hotels and non-compliant businesses have been shut down. In their place, businesses like Walgreens, Walmart, Catholic Charities Social Services, Bank of America and BJ's Restaurant have made their home. What used to be a hot bed for gang activity, is now the center for the Peace Basketball League. And there are many other local resources for community area residents as a result of years of marching.
As a model for other communities, the Faith Community of St. Sabina demonstrates that members can come out of their pews and church doors to care for their surrounding community. "Our congregation extends beyond the four walls of the sanctuary," said Father Pfleger. "Our congregation is the community." This is an affirmation that by serving the community, we are serving the Lord!