The Faith Community of Saint Sabina
Our Next Live Internet Broadcast:
Sunday, May 26, 2013 at 11:15am
Saint Sabina Church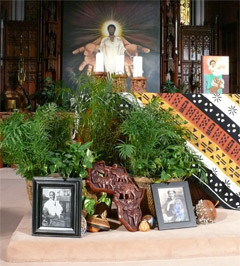 The Faith Community of St. Sabina is a Word-based, Bible teaching church that believes in the power of praise and worship. We are a spiritual hospital where all are welcome and invited to "taste and see the goodness of the Lord."
Saint Sabina Academy
Ujima: Collective Work and Responsibility

...Where children are nourished and families are embraced.
How to Reach Us
How to Reach Us
1210 W 78th Place
Chicago, IL 60620

773 . 483 . 4300
Office Hours
Monday - Friday: 8:30 am - 8:45 pm
Saturday: 9 am - 8:45 pm
Sunday: The office is closed. Church Sanctuary opens for worship an hour before the 1st service.
St. Sabina Events Calendar
Visit Saint Sabina Events Calendar
Peace BasketBall League Games
at the ARK of St. Sabina
Mondays at 6:30pm
---
The Faith Community of Saint Sabina joined with Illinois Council Against Handgun Violence to lobby for commonsense gun laws in Springfield, Illinois on Thursday, April 11th. WGN TV9 reports: Gun Control Rally Held in Springfield
Occupy the Streets
St. Sabina's Annual End of the School Year March to Proclaim Peace in the Streets
Friday, June 21, 2013, 7:00 p.m.
In front of the church at 78th Place & Throop
The first 500 people to arrive will receive a free t‐shirt beginning at 6:00 p.m.
---

Saint Sabina's Community Outreach Organizations