100th Anniversary Pictorial Directory - Sign Up Today!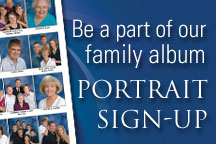 Life Touch will be here in July and August to take pictures for our 100th Anniversary pictorial directory.
Times are available on the following three days. Monday, August 22, 2016, Tuesday, August 23, 2016 and Wednesday, August 24, 2016. The schedule is currently full for the week of July 19th through July 23rd and the week of August 2nd through August 6th.
Everyone who takes a picture will receive a directory when the project is completed.