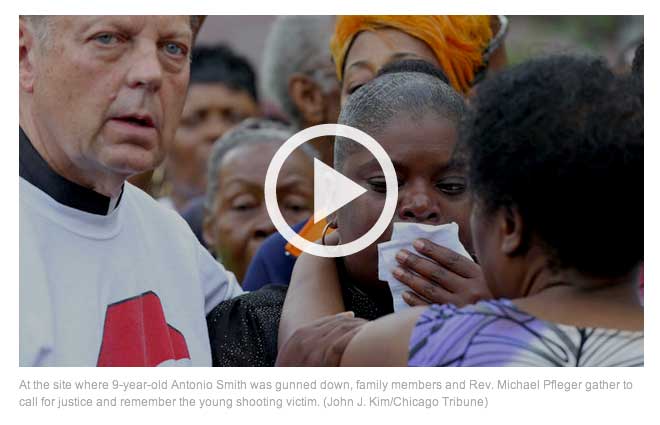 Nine-year-old Antonio Smith was gunned down on a concrete slab a few feet away from the railroad tracks that have long served as the dividing line between rival gangs in the Greater Grand Crossing neighborhood known as Pocket Town.
How a fourth-grader who played peewee football and loved to dance to Chris Brown songs ended up there with fatal bullet wounds in his chest, back and hand is not clear.
But the tragic murder of another child in the city has left a community mourning, parents seeking answers, and a nation once again wondering what's going on in Chicago.
"He just didn't make it," Brandi Murry, said Thursday at her home, a few blocks from where her son was fatally shot a day earlier. "I'm praying for the whole city right now. I don't want no other parent to ever go through this. I feel your pain. It's bad, and it hurts so much."
...
Just before sundown Thursday, dozens of community members joined Antonio's family in the backyard where he was shot. A young boy stood briefly at the front of the crowd, clutching a placard that said 'I am Antonio Smith'. Several others held white balloons, as police detectives and officials looked on.
"We're here in outrage," said the Rev. Michael Pfleger of St. Sabina Church, who organized the vigil. "We're in outrage because when you shoot a 9-year-old boy in a dead-end alley, it is indeed an execution. It is a hit, it's not an accident, it's not a drive-by. This was an executed, direct hit on a child. If you kill a child, you are a terrorist in our neighborhood, and we want you brought in, we want you turned in and we want you locked up."
Antonio's mother declined to address the crowd. She grasped a young man and broke into heavy sobs as the family slowly left.
Community and religious leaders donated a total of $13,500 as a reward for information leading to the shooter, Pfleger said. Members of the crowd paraded slowly through the neighborhood as the rally broke, leaving fliers on surrounding windshields and doorways.
"Let us be clear, it's a bounty," Pfleger said.
Read the full article and view the videos at http://www.chicagotribune.com/news/local/breaking/chi-chicago-boy-killed-20140821-story.html#page=1
By Dahleen Glanton, Meredith Rodriguez and Jeremy Gorner,
Tribune reporters