Written By Felice Barrett | Photos of Father Pfleger and the Memorial Organizers by Bernard Kleina

There comes a time in everyone's life where an event, a meeting or an action will alter the course of that person's life in a profound manner. For Michael Louis Pfleger, that time came on August 5, 1966 when he was a junior in high school. He was drawn to Marquette Park out of curiosity because of media attention about a preacher named Dr. Martin Luther King Jr who would be coming up North to lead a march to demonstrate for integrated housing in his neighborhood. This was an unpopular notion amongst Pfleger's school mates, neighbors and fellow parishioners. During this time, Marquette Park (located on Chicago's South Side) and the surrounding communities were segregated and the local realtor association supported ordinances preventing Black and Hispanic people from buying and renting in certain neighborhoods. Not surprisingly, Dr. King and his fellow marchers were met with racial tension and hate. Dr. King reflected on the Marquette Park March as "the first step on a 1,000 mile journey." Likewise, the Marquette Park March was Pfleger's first step on a life-long quest for justice and racial equality.
Pfleger, who is now the Senior Pastor of the Faith Community of St. Sabina, described his experiences at Marquette Park that day. He rode to the park on a bicycle with two of his friends. There were about 700 marchers and thousands of people protesting against them. When he witnessed familiar people throwing rocks and bricks and hurling bottles at the marchers, he had a feeling of fear. "I never saw so much hate in my life" he recalled. Juxtaposed with this anxiety was a sense of wonder. Dr. King's calm and purposeful reaction to the racial insults, the brick that caused him to stumble and the harm to the other marchers made Pfleger think "there is something about this guy, either the man is crazy or I need to learn more about him." He recalled that this was a powerful lesson in non-violence.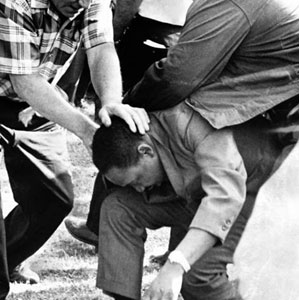 What would prove to be a pivotal formation for his life and ministry, Pfleger began to post newspaper and magazine articles about King on his bedroom walls. He also went to the library and read every book about Dr. Martin Luther King, Jr that he could get his hands on. He was determined to learn everything he could about Dr. King. Pfleger would later become a priest and model his ministry after many of the ideals that King stood for. He has taken a stand on many issues that affect the lives of citizens in Chicago. On Friday nights and other times when justice is not quite rolling like a mighty stream, Pfleger has lead marchers through the city for non-violent demonstrations.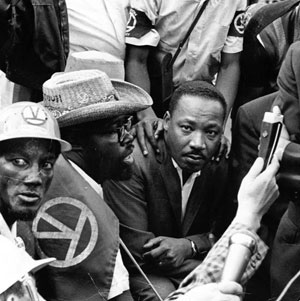 On August 6, 2016, Pfleger and other community leaders and members will retrace a portion of Dr. King's march that ends in Marquette Park, where the first permanent memorial dedicated to Dr. King and his time in Chicago will stand. Organizer Rami Nashashibi, Executive Director of the Inner City Muslim Action Network and other committee members have organized a celebration for the community to raise awareness about the struggle for criminal justice and housing reform. Nashashibi notes that "Pastor Pfleger is an extraordinary inspiration that took the spark of Dr. Martin Luther King, Jr. and has remained a loyal and important ally in the struggle for equality." More information about the celebration and how you can join the march can be found at www.mlkmemorialchicago.org
Pfleger is grateful for the memorial and hopes that the community at large will take a look and remember the history and the sacrifices our leaders have made for us and began to share this information with our children. While housing discrimination is illegal, there are still some areas in the Chicagoland area where people of color are discouraged from living. Pfleger reflects that when he thinks about the history and the memorial he realizes how little we have accomplished in area of housing integration. While many neighborhoods are still segregated, Pfleger explains that there are some things that should be done. He says that we must continue to fight to level the playing field in the areas of education, employment and business development. The services and opportunities need to be the same across different neighborhoods and sides of Chicago. And further, we need to effectively and courageously deal with the DNA of racism in America. Face it, expose it and eradicate it!!! In the end, Pfleger echoes Dr. King's comment: "We can fight for laws to make changes but only faith can change the heart."