The list of our family and friends who are affected by the virus is growing daily. We respond with fervent prayer and extreme faith!
We're collecting the names of people in our community affected by the virus for intecessory prayer and encouragement. Read more to learn how you can include your family and friends in our prayer outreach and download the printable door hanger:
We Believe in the POWER of the BLOOD of JESUS!
Step 1 - Gather the names of family members and friends who have been / are being affected by the virus.
Step 2 - Submit those names for inclusion in our prayer outreach. Include a phone number if they would like to receive an encouraging call. Submit via:
Step 3 - Names will be placed in a large Vessel that will be located on the Church Altar.
Step 4 - At Noon Prayer time: Church intercessors and prayer warriors will lift up a special pray for the names that have been collected in the Vessel.
Step 5 - The Living Waters Iron Sharpening Iron Team and other St. Sabina Members will make encouraging calls to those for whom phone numbers were submitted.
Also look for the Printable Doorknob Hanger on our online outlets: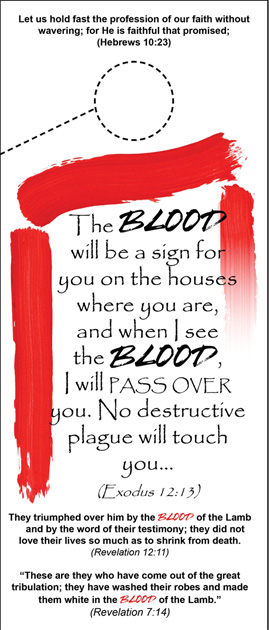 Print it, cut it out and hang it on the door knob(s) on/in your home as a reminder of the Power of the Blood of Jesus!
Download the

Door Hanger as an Adobe PDF
Download the

Door Hanger as a JPG image file
Download the

"Power of the Blood of Jesus" Prayer Flyer as an Adobe PDF
MAGNIFYING GOD'S VISION FOR HIS CHURCH