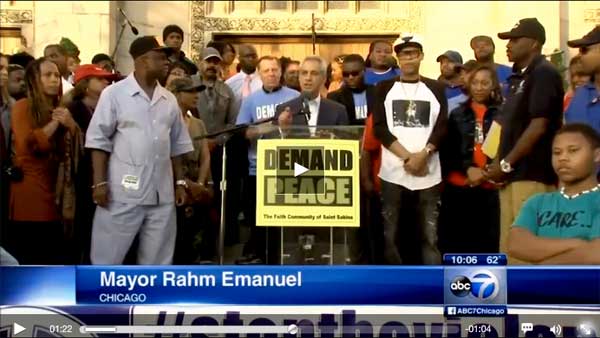 CHICAGO (WLS) -- As Chicago Public Schools ended the school year, a march through the streets of the Gresham neighborhood was held to start summer on a peaceful note.
Hundreds walked Friday night with Father Michael Pfleger of Saint Sabina Church. As parents of victims read the names of young people who died this year, Father Pfleger told the crowd this isn't a moment for silence, but a time to scream outrage.
Those calls came on the same day that a teenager was wounded in a shooting in Avalon Park and three others were shot in Austin.
Nigel Lewis, 15, remains hospitalized with a bullet wound to his shoulder after his family said he became a victim of Chicago's gun violence.
"He was getting just ready to celebrate his 16th birthday with his mother at Disney and, with all I've seen, he's never been in any trouble," said JoAnn Scott, a neighborhood resident.
The incident happened in 8500-block of South Euclid, and is the kind of gun violence the concerned hope to curb as the Chicago Public School year ends and the summer begins.
Also, on Friday, the parents of slain teen Hadiya Pendleton announced a new nonprofit organization to help curb violence across the nation: Hadiya's Promise.
"Me and Cleo have taken action against violence since day one," said Nathaniel Pendleton, Hadiya's father. "And Hadiya has been there ever since."
Hadiya was killed in January 2013 after leaving school. She would have turned 17 this month.
Chicago Mayor Rahm Emanuel attended the event and spoke about programs and jobs to help kids stay busy this summer.
"We have a lot of work ahead of us, but we are doing more, it would be helpful if Washington would start paying attention and start investing in our kids' future," Emanuel said.
Meanwhile, some communities are standing against gun violence by taking to the streets.
One of the locations for this, at 79th and Cottage Grove, is hosting the first weekend of the Brothers on the Block, Sisters on the Street event.
"I'm a product of the streets myself, some people reached out and helped me so I feel it's right to return the favor," said Gino Jones, a volunteer.
The initiative is the brain child of Pastor Corey Brooks of New Beginnings Church. They plan to have volunteers staff over 500 blocks in troubled neighborhoods from now until the end of the summer.