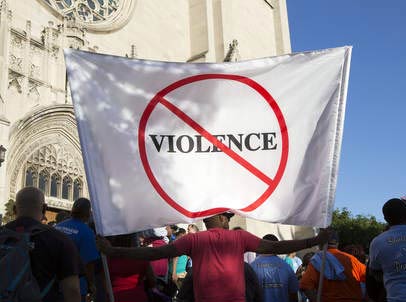 Chicago Sun Times: Annual Peace March Held on City's South Side
Some 200 people turned out Friday night for St. Sabina's annual end-of-the-school-year peace march, joined by Mayor Rahm Emanuel and a host of other dignitaries.
Emanuel and the Rev. Michael Pfleger urged the community to take responsibility for combatting gun violence this summer, and names of victim after victim under age 21 who have been killed this year were ticked off.
"We must take responsibility for the safety of our children and our community," said Pfleger, rallying the crowd from the steps of the church in South Side Auburn-Gresham, before the 7 p.m. march.
"This isn't just another march, because it's about empowering the community," said Chicago Urban League President Andrea Zopp.
The crowd, a sea of blue T-shirts emblazoned with "Peacemakers," marched, accompanied by a drum corps, from 79th & Racine several square blocks to 81st Street and back, chanting such slogans as "What do we want? Peace! When do we want it? Now!"
And marching among them were many parents who have lost children to the violence.
"This violence needs to stop," said Anthanette Marsh Banks, who lost son, Archie Chambers, Jr., 20, on April 21, 2012. "I will march and do whatever I can so that not another parent has to feel the pain I feel everyday."
Twitter: @Maudlynei