Protesters against gun violence rally outside Chuck's Gun Shop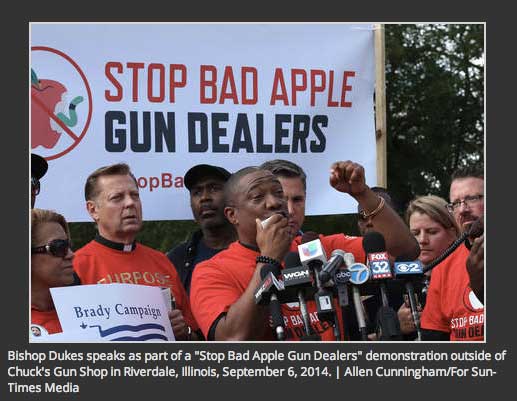 By Susan DeMar Lafferty September 6, 2014 3:42PM
Standing on the sidewalk outside of Chuck's Gun Shop in Riverdale Saturday morning, Yolan Corner held up a picture of her daughter, Nova Henry, and her granddaughter, Ava Curry, and joined the crowd of about 200 who chanted, "Stop the gun flow. Save our children," and "Reform Chuck's now."
Nova and Ava were shot multiple times and killed in January 2009 in Chicago by Nova's ex-boyfriend, Frederick Goings, who bought his weapon -- a Bersa 380 -- from Chuck's Gun Shop, Corner said.
At the time of his gun purchase, Goings, now serving a life sentence, was a licensed attorney, with a history of criminal charges, but no convictions, she said.
According to the Brady Center to Prevent GunViolence, which chose this site to launch its new campaign -- "Stop Bad Apple Gun Dealers" -- 1,500 guns used in crimes in Chicago between 2009 and 2013 were traced to Chuck's Gun Shop.
"If you never speak about it, you never get results. I am here to speak for them," Corner said, pointing to her picture.
One percent of gun dealers are responsible for 60 percent of crime guns, and one in five of Chicago crime guns came from four "bad apple" dealers - three in Cook County, including Chuck's, and one in Gary, said Dan Gross, president of the Brady Center.
"We have no problem with those who legally sell guns. It is this 1 percent." said the Rev. Michael Pfleger, of St. Sabina Church in Chicago.
Gross said they want to "put a face" on gun violence and mobilize communities to take action against irresponsible gun dealers.
Many in the crowd had lost loved ones to gun violence....
READ MORE at http://www.suntimes.com/29723992-418/protesters-against-gun-violence-rally-outside-chucks-gun-shop.html