Rev. Jesse Jackson told the audience, Brown's death is being used to "bring about life"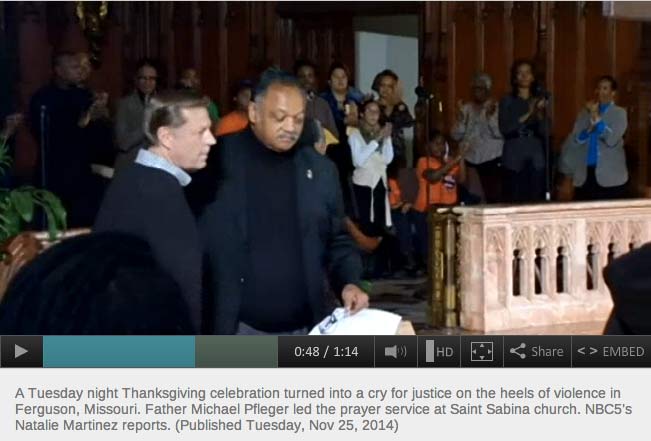 By Natalie Martinez
A Tuesday night Thanksgiving celebration turned into a cry for justice on the heels of violence in Ferguson, Missouri. Father Michael Pfleger led the prayer service at Saint Sabina church. NBC5's Natalie Martinez reports. (Published Tuesday, Nov 25, 2014)
A Thanksgiving prayer service at St. Sabina Church in Chicago turned into a cry for justice Tuesday night, one day after a grand jury decided not to indict Ferguson Police Officer Darren Wilson in the shooting of unarmed teen Michael Brown.
"Until we have the courage in the country to face the de-valuization of black life in America and equal the playing field, we will continue to fail," said Father Michael Pfleger.
Many in the church spoke out against the decision.
This comes after a night of protests and just hours after President Barack Obama encourage peaceful demonstrations, saying he has no sympathy for violent demonstrators.
Rev. Jesse Jackson told the audience, Brown's death is being used to "bring about life."
"Many big people in high places could not get the people's attention, but God is using an 18-year-old kid's dead body to bring people to life," Jackson said during the service. "Mike Brown is doing more in death than his killer is doing walking the streets alive."
Many chanted Tuesday night that there's a "Ferguson everywhere, a Mike Brown in every town."
Watch the video and read the full story at http://www.nbcchicago.com/news/local/Thanksgiving-Service-Rev-Jackson-Pfleger-Brown-Ferguson-283924461.html