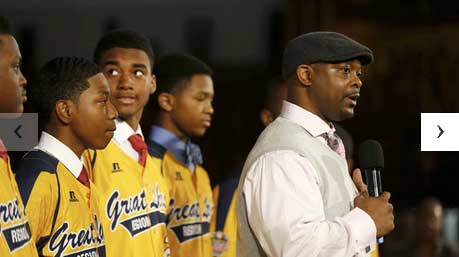 Jackie Robinson West hailed as "still champions" at St. Sabina.
Members of the Jackie Robinson West All Stars baseball team on Sunday promoted a letter-writing campaign aimed at restoring their United States championship, enlisting the support of the Rev. Michael Pfleger during an appearance at St. Sabina Catholic Church.
Pfleger praised the team during his sermon at a midday service, and team members asked the congregation to send letters to Little League International requesting a restoration of the title that was revoked in February because of boundary violations.
"They need to know they are not alone," Pfleger said. "We're with them, and we're going to fight with them, and we're going to continue to fight."
Read More: http://www.chicagotribune.com/news/ct-jackie-robinson-west-st-sabina-met-20150315-story.html
by Patrick O' Connell, Chicago Tribune