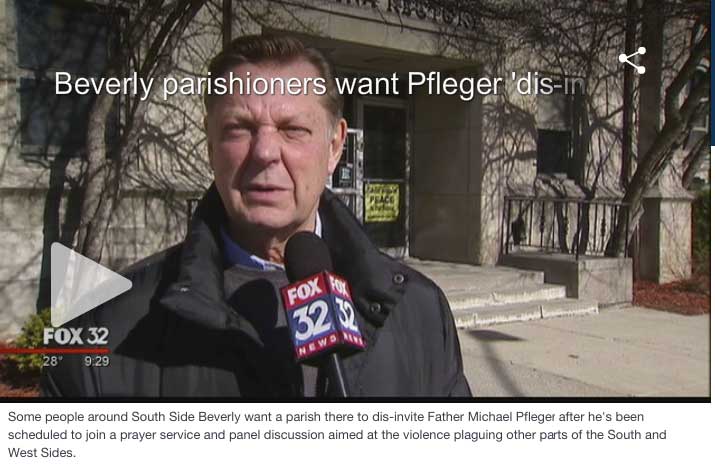 By Mike Flannery
CHICAGO (FOX 32 News) - Some people around South Side Beverly want a parish there to dis-invite Father Michael Pfleger after he's been scheduled to join a prayer service and panel discussion aimed at the violence plaguing other parts of the South and West Sides.
Seven churches in Beverly and Morgan Park didn't expect controversy when they launched a campaign called "Thou Shalt Not Murder." The campaign is to make Easter Sunday in Chicago a day without killing...
...Father Bill Malloy joined with a group of local Protestant leaders to call for Easter Sunday to be a day without killing in Chicago. Besides Pfleger, Fr. David Kelly and Police Deputy Chief Eugene Williams will speak. The movement is named after the Biblical commandment, "Thou Shalt Not Murder."
"It is possible not to pick up a handgun, not to pick up a weapon and take the life of another," said Rev. Dennis Langdon of Morgan Park United Methodist.
"If we don't start to think ourselves as being inter-connected, then I don't think we solve some of the bigger problems in this city," said Scott Smith, Parishioner at Saint Barnabas.
The parish church seats about 1,200 people, and Pastor Bill Malloy says there may be an upside to the uproar. He expects the church may be packed on Feb. 27th when the prayer service and panel discussion takes place that evening.