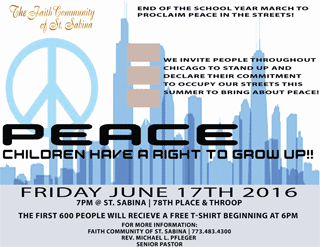 George Anderson, age 17. Christian Bandemear, age 16. Tyshawn Lee, age 9. Amari Brown, age 7.
These are just four of the over 100 names of children and young people under 20 who have died as a result of gun violence in Chicago since June 2015. The names of all those children and young people were read on the steps of St. Sabina Church June 17 during the parish's end of the school year rally and peace march.
Mothers who lost children to gun violence read the names and ages before an estimated crowd of over 1,000. The mothers were from Purpose Over Pain, a group formed in 2007 by several Chicago-area parents who lost their children to gun violence.
St. Sabina's pastor, Father Michael Pfleger, led the annual event in the city's Auburn-Gresham community, which included local elected officials and Chicago Police Superintendent Eddie Johnson, who used to be a commander in that district. The event kicked off the parish's Friday evening marches for peace, which will take place every Friday of the summer...