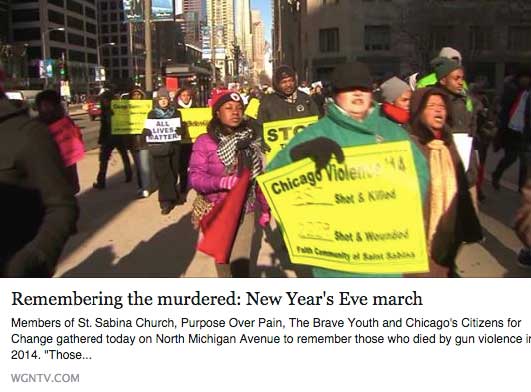 Members of St. Sabina Church, Purpose Over Pain, The Brave Youth and Chicago's Citizens for Change gathered today on North Michigan Avenue to remember those who died by gun violence in 2014.
"Those are people's sons, people's daughters, people's mothers, people's fathers, cousins, these are our brothers and sisters in the city of Chicago," Father Michael Pfleger told the crowd. "We all lost 387 people last year."
Father Pleger gathered his parishioners for a march down Michigan Avenue. The crowd of several hundred people marched through the heart of the city from Pioneer Court to the Water Tower and back.
Many of the marchers held up pictures of loved ones who were murdered. Mothers, fathers, brothers and sisters participated in the march, calling for a renewed focus on the root causes of gun violence.
Father Pfleger has long advocated for stricter gun laws.
POSTED at WGNTV.COM: Remembering the murdered: New Year's Eve march: 12:53 PM, DECEMBER 31, 2014, BY WGN WEB DESK AND JULIAN CREWS, UPDATED AT 04:18PM, DECEMBER 31, 2014