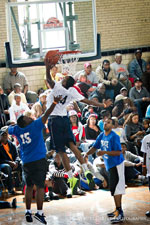 In the beginning of June 2012, we began having weekly marches in the community on Friday nights. Due to the violence in the community, we marched to areas where there were recent shootings or acts of violence.
During one of the marches we invited one of the gangs to join with other gangs for a Peace Tournament. Originally their response was not to take part. When former NBA player and Coach Isiah Thomas, who was with us, said he was on board they agreed. We continued each Friday night talking to the other gangs in the area. At the same time Bulls player Joakim Noah reached out to help through one of our partners, Cobe Williams. After getting the support and agreement of all four gangs, their four leaders, Cobe, Asa Powell, the tournament was set for Saturday, September 22, 2012.
The day of the tournament, we were joined by not only the committed Joakim Noah, but Taj Gibson, Derrick Rose, Isiah Thomas, Quentin Richardson, Bobby Simmons, Janero Pargo, and Antoine Walker, as well as NBA Referees Danny Crawford and Jim Capers, along with Simeon High School star Jabari Parker and Whitney Young stand Jahlil Okafor. Security was provided for all entrants by The Fruit of Islam (FOI) of The Nation of Islam. The gym was filled to capacity with 2000 people from the community while another 1000 were turned away. The events was covered nationally by CNN, ABC World News, Nightline and ESPN, as well as all local media. That day there was not a single act of violence.
Since then we started the PeaceMakers Basketball League. It is a 12 week league that began with 6 teams but has grown to an 8 team league, we are currently in our second cycle, with each team consisting of 10 players each. The league is held on Monday evenings beginning at 5;30 pm with food and mentoring sessions with the games following beginning at 6:30 pm.
We have also made GED classes available to the brothers who want to complete their education, internships for those looking for work and been able to purchase suits for 16 of the participants. Joakim Noah has also provided 10 tickets to 25 Bulls home games to help build the relationships amongst the brothers. We have had success with this program as we have helped find employment for over 160 young men and our GED program has had over 130 participants from the program. Saint Sabina's Employment Resource Center provided jobs for over 1100 youth at 187 work sites during the Summer of 2013.
The best news is that since September 15, 2012 , these four rival groups that were shooting and killing each other each week have not shot a single person do to the cease fire agreement between the groups and us.
Download the story of the PeaceMakers Basketball League Story as a PDF