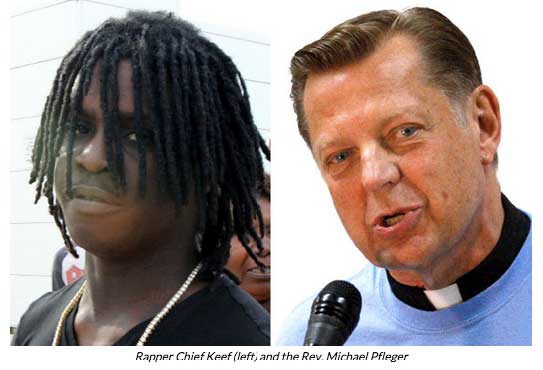 WRITTEN BY BY MITCH DUDEK AND STEFANO ESPOSITO POSTED: 07/13/2015, 11:48AM
Forget the concert. Send a check instead.
That's Father Michael Pfleger's response to rapper Chief Keef's plan to hold a concert in memory of a rapper friend slain in gun violence over the weekend, as well as a toddler who died in the aftermath.
Earlier Monday, Pfleger had an even more blunt message for the rapper on his Facebook page: "SHUT UP!!!!!" "Chief Keef has announced that he will hold a benefit concert to raise funds for his friend and the Baby who were killed this past weekend….REALLY…Chief Keef is one of the reasons we have all this violence…he has been one of the encourager's of the Violence," wrote the outspoken pastor who has taken to the pulpit and the streets to fight gun violence....