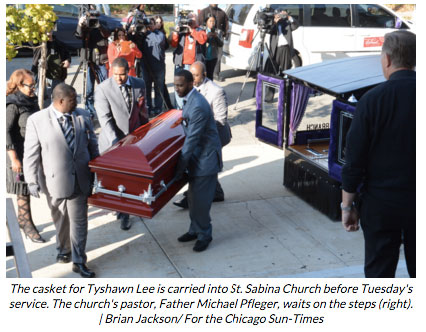 A Harley-Davidson motorcycle arrived at St. Sabina Church on the South Side Tuesday morning towing a small red casket that contained the body of Tyshawn Lee — a fourth-grader whose name the city of Chicago, and many around the country, have come to know.
The 9-year-old was lured into an Auburn Gresham neighborhood alley and executed by a gunman last week. Police said the slaying was gang retaliation against the boy's father.
Hundreds filed past the red casket in front of the altar to pray over Tyshawn, who wore a white tuxedo and a red bow tie. A red fedora was placed next to his head, two basketballs near his feet.
Tyshawn's mother, Karla Lee, kissed her son goodbye on the forehead and nearly collapsed in grief as she cried out "Lord have mercy!"
....