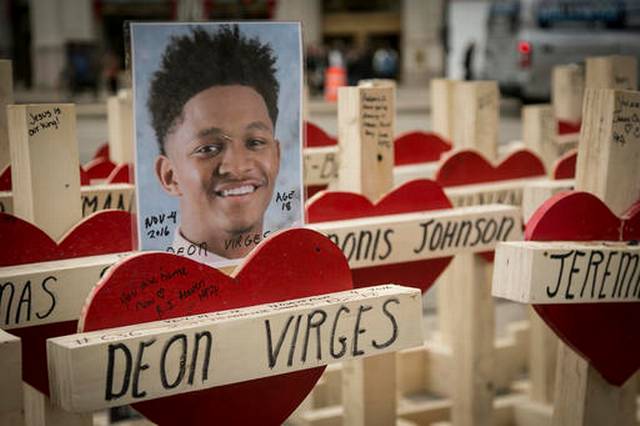 By Michael O'Loughlin
On the final day of one of Chicago's most violent years in decades, several hundred demonstrators, including some of the family members of the more than 750 people killed in the city in 2016, took to the streets demanding justice for their loved ones and calling for an end to the record-levels of violence affecting the city.
The Rev. Michael Pfleger, a priest and civil rights activist, joined the Rev. Jesse Jackson in leading the march down the Magnificent Mile, the city's main high-end shopping avenue...
The News and Observer | December 31, 2016, 7:02pm
Silent march through downtown Chicago marks year of violence
Crosses are displayed for each person slain in Chicago this year during a quiet march along Michigan Avenue, Saturday, Dec. 31, 2016, in Chicago.Chicago Sun-Times via AP Ashlee Rezin. Hundreds of people carry crosses for each person slain in Chicago ...
CBS Chicago Local | December 31, 2016, 12:14 PM
Hundreds March To Remember Victims Of Chicago's Gun Violence
Father Michael Pfleger organized the memorial. The Rev. Michael Pfleger, a Chicago priest, said the crosses will be carried on Saturday beginning at ...
Chicago Sun-Times | December 31, 2016, 3:01 PM
Magnificent Mile march remembers Chicago's murder victims
This is a Chicago problem," the St. Sabina pastor added. ... As the group approached Ontario, a Chicago Police sergeant told a street performer, ...
Chicago Sun-Times | December 23, 2016, 11:08 PM
Chicago Sun Times: John Fountain: A carpenter etches the name of every murder victim
Father Michael Pfleger and the Faith Community of St. Sabina, to call attention to Chicago's violence. Zanis says he needs volunteers to transport the ..