Some Chicago mothers mark day with tears for slain children
CNN: May 9, 2010
Some Chicago mothers mark day with tears for slain children
"For one group of women in Chicago on Sunday, Mother's Day was marked not with flowers, but with a stark reminder of their loss.
One by one, they filed toward a newly unveiled sculpture at the city's St. Sabina Church, placing small white cards emblazoned with names such as Blair Holt and Matthew Michael Rodriguez at the foot of the two figures in the sculpture...
For some of the women, the realistic work of a faceless, gun-wielding assailant killing a young girl was too much to bear, CNN affiliate WGN reported.
Instead of being celebrated by their children this holiday, these mothers were mourning the deaths of their children -- all victims of gun violence on Chicago's streets
...The sculpture's artist, J.S. Kenar, said he was trying to "show the pain, to show that something unhuman is going on here."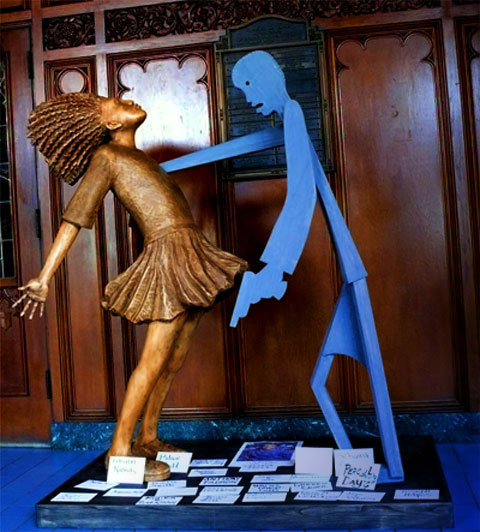 A Sculpture Honoring Our Lost Children by artist Jerzy Kenar was unveiled in vestibule of Saint Sabina